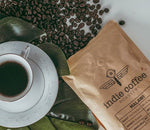 Here's a wonderful spiritual meditation to get your morning off to a positive and productive start.  Every once in a while when I receive a particularly nice gift of fine coffee, such as this delicious one from http://myindiecoffee.com , I like to pull out my favorite mug and do this simple Morning Coffee Meditation.  Here's how it works:
Find a mug that has a message that resonates with you.  I love this mug, because the concept of "Amor Fati" comes from the philosophical concept that a person should be in love with their fate.  Once they embrace all the joy and pain that this fate entails, they will find their lives flowing in a more calm, content and natural fashion, where they can deal with challenges in a balanced and rational way. This leads to better results in all areas of life.  
Once you choose your coffee and your mug, practice thinking about every action that you need to take to make yourself a cup of coffee, and give thanks and send blessings to that action.  As you fill the water to boil, give thanks and blessings to the water and to everyone who helped that water appear when you turn on the tap.  As you grind the coffee beans, or scoop the coffee into your coffee maker, give thanks and blessings to the items needed to make your coffee, and to the people who made it possible for the coffee to be ready to brew.  
This is a type of Mindful Meditation.  As we perform these actions, we find ourselves fully in the now, giving thanks and blessing our ability to manifest a wonderful cup of coffee in our lives.  As we train our minds to be in an "attitude of gratitude" we stretch our ability to manifest, as we are tapping into the Universal Life Force that connects us all.  The more that we take time to think in this way, the more we will be calm and receptive to the wonderful blessings that we already have received, or about to receive in our lives.  
When the coffee is brewed and ready to drink, make sure to seat yourself and give thanks to the Universe and everyone who enabled you to be blessed with this coffee.  Think of these blessings flowing out from you as you drink this coffee that is so delicious and full of vitality.  Understand that these blessings will come back to you, as you are an integral and important part of the Universe.  
Sit in calm appreciation of this time of self care, and understand that this is all a part of the Eternal Moment, where all blessings flow from.  As you send out this wonderful positive energy, it will surround and manifest in your own life as well.  
Give my Morning Coffee Meditation a try, and let me  know how it blesses your life! 
Written by: Rev. Dr. Tracy Cox, DD